The Fisher House - Why we chose them.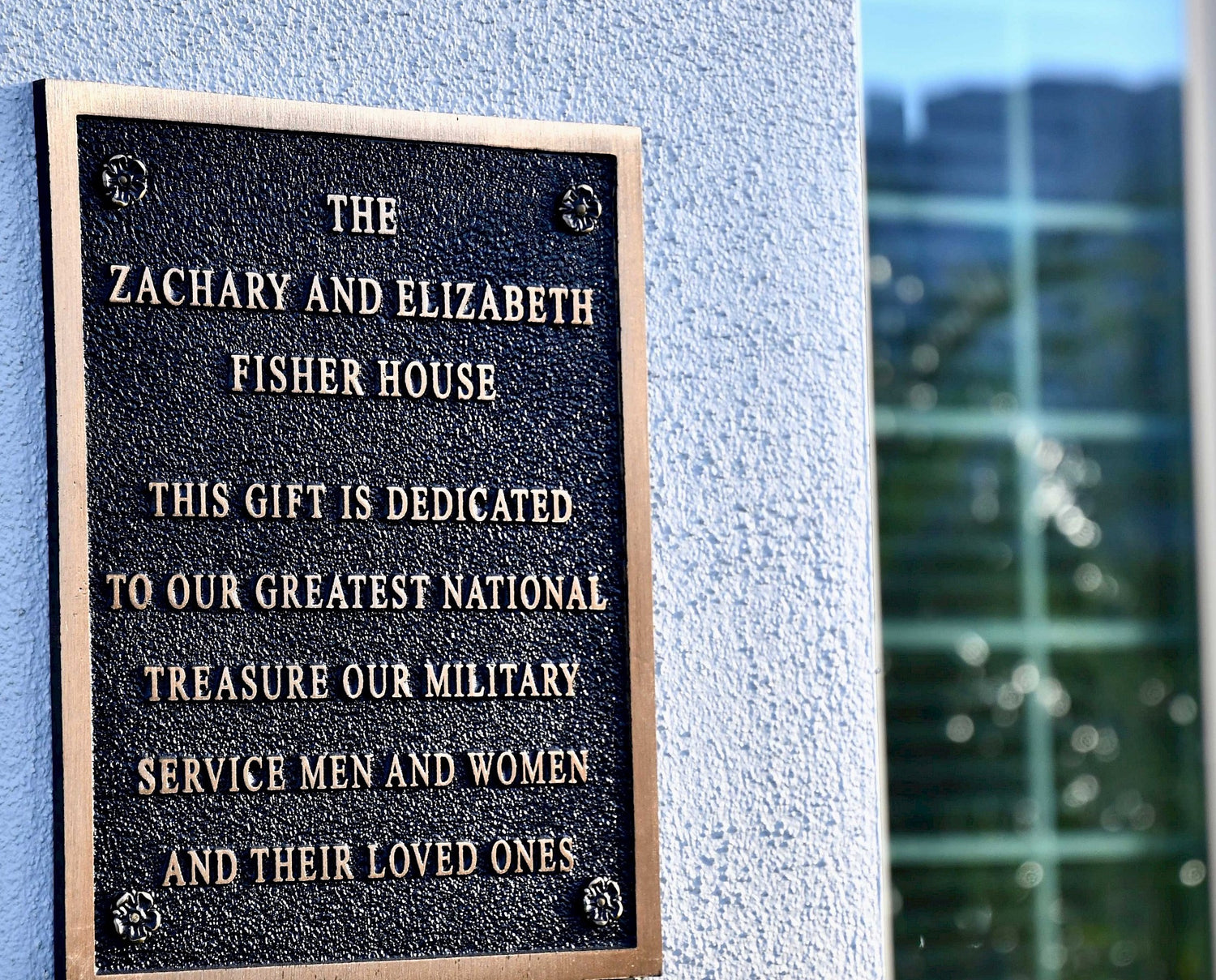 Fisher House Foundation builds comfort homes where military & veteran families can stay free of charge, while a loved one is in the hospital.
The Why.
Always start with the Why. 
2008 at (then) Fort Benning Mike was going through basic training just as any other military initial entry trainee. At about 8 weeks in he started noticing people in his platoon getting sick and being "recycled" (this is when a trainee starts back at day 1 after healing from an injury or illness while in Basic Training). Week 10,  nearly a quarter of people in his platoon were sick or recycled. By the end of training about a third of people were gone, either recycled or still sick at the hospital. Including the two in the bunks next to him. Graduation and Family day went off without a hitch and now it was on to Fort Sam Houston to continue his training as a combat medic. The next 24 hours would be a challenging time.
Arriving at Ft Sam, he started feeling under the weather with what seemed like a cold or sinus infection. It then went to his chest and felt like bronchitis, until it wasn't. While standing in line at the dining facility, Mike had a seizure. 
He woke up at Brooke Army Medical Center in the intensive care unit. The seizure was caused by a fever; he was having trouble getting oxygen, and could barely move. He had meningitis and pneumonia. Where does the Fisher House come in?
Mike's mother came to San Antonio, no place to stay, with just a few things she brought. A representative from the Fisher House met her and explained what they do. She was brought to a house, not a hotel. A house fully equipped with every amenity that you would expect, laundry, full kitchen, stocked fridge, clean and cozy bedrooms. All at no cost to the family.
Fast forward to 2011.
Mike and April were having a destination wedding in Treasure Island, FL. Early morning the day after the wedding April's uncle began complaining of chest pain and was taken to the Tampa VA with a heart attack. While Mike and April had flights already scheduled the Fisher House again came to the rescue. They provided the same services from a few years earlier. Offering several rooms for family as well as coordinating transportation for the family to get back to the airport to get home after the fact.
The Fisher House is one of the few charities that has directly had an impact on Mike and his family, leading to him to select them for the Army's Combined Federal Campaign year after year. When creating Unknown Entity they were one of the first to come to mind when selecting causes or charities.
Who is the Fisher House?
In times of crisis and hardship, having a support system is crucial. For military families who often face unique challenges and sacrifices, the Fisher House Foundation has been a beacon of hope and assistance. Established in 1990, the Fisher House Foundation has been dedicated to providing comfort, care, and accommodations to families of service members and veterans during their medical journeys. Let's explore the incredible work of this nonprofit organization and understand the impact it has made on the lives of military families.
The Fisher House Foundation's mission is centered around the idea that a family's love is good medicine. Their primary objective is to ensure that military families can be together during times of medical need and recovery. They achieve this by providing comfortable and supportive accommodations near major military and VA medical centers worldwide. These "Fisher Houses" serve as a home away from home, enabling families to stay together, provide emotional support to their loved ones, and aid in the healing process.
It all started with one…
One man and one idea that was sparked by one conversation. One idea grew to the first Fisher House that has grown to over 90 Fisher Houses and supported hundreds of thousands of families. This network of comfort homes was created to provide a sense of normalcy during medical crisis and it all started with just… one.
Zachary Fisher was a builder, philanthropist, and patriot. He began working in construction at the age of 16 to help support his immigrant parents. He and his two brothers formed Fisher Brothers and eventually became one of the real estate industry's premier residential and commercial developers.
Zachary was already committed to supporting the U.S. Armed Forces, but one phone call changed the trajectory of his incredible legacy. Pauline Trost, the wife of the Chief of Naval Operations in 1986, had watched a family exit a helicopter with their luggage at the National Naval Medical Center, Bethesda and wondered where they would stay. Knowing the hotels in the area are costly, she knew this would be a huge burden on families facing medical crisis.
She mentioned it to her husband, who in turn told Zachary. "I'm a builder. That's what I do for a living. I can do this." Zach and Elizabeth Fisher dedicated more than $20 million to the construction of comfort homes for families of hospitalized military personnel to stay free of charge in support of their loved ones when they need it most.
Brick by brick, these houses were built, and a foundation was created for life-changing experiences for those who walk through Fisher House doors.
One may seem like a small number and maybe even insignificant, but Zachary Fisher is the example of how important one can be. One dollar, one supporter, one fundraiser – all part of the legacy that has changed the lives of our military, veterans, and their families.
What does the Fisher House provide?
The Fisher House Foundation offers a range of services to support military families, all at no cost to them. Some of the key services provided by the organization include:
Lodging: Fisher Houses are well-appointed, fully furnished homes located near medical centers. Families can stay in these houses free of charge, eliminating the financial burden of finding temporary housing during medical treatment.
Transportation Assistance: The foundation assists families with travel arrangements and helps cover transportation costs, ensuring that loved ones can be there to support their service member during medical treatment.
Scholarships: The foundation awards scholarships to military children, enabling them to pursue higher education and achieve their dreams.
Hero Miles and Hotels for Heroes Programs: These programs allow individuals and organizations to donate airline miles and hotel points, which are then used to provide free flights and accommodations to military families in need.
Family Support: The Fisher House Foundation recognizes the emotional toll military families face. They offer a network of support, including counseling services, support groups, and resources to help families cope with the challenges they encounter.
The Fisher House Foundation has become a lifeline for military families facing medical crises. Through their compassionate services, they have created an environment where families can find solace, support, and strength during challenging times. The organization's commitment to keeping military families together and providing them with essential resources is truly commendable.
As we recognize the sacrifices made by our service members and their families, let us also appreciate the efforts of the Fisher House Foundation in ensuring that these families receive the care and support they deserve. Together, we can continue to make a difference in the lives of those who have selflessly served our nation.